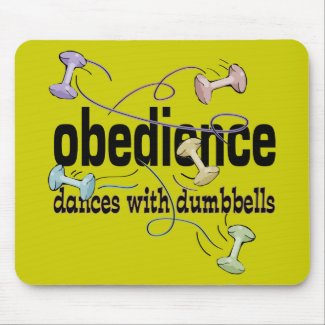 I'm so sorry to have been gone so long. It's been sort of a crazy month or so. I have only seldom been able to work on my store, in fact this is one of very few new designs I've done. I've been working on a couple of book designs for Clean Run, which is mahvellous, dahlink, because it brings in big bucks. But I've missed the pure creativity of designing things just for myself (well, and for all the people I hope will buy them.
I was thrilled that Zazzle decided to not do shipping last month, let's hope they restructure the whole shipping package; right now their shipping is far too high! But thanks to their promotion, I had one of my biggest months ever in spite of not being able to give the store the attention it deserves.
I had a giggle over this design. For those of you not into dog obedience it may not make much sense. But anyone who has ever tossed an obedience dumbbell for a dog to fetch and had it go careering all over the place (into the next ring, behind you or even, in one case, hanging in a light fixture) will get this one! And this is one shirt I actually did a front and back design for. Front shown here, but there's another dumbbell on the back too. Hope you enjoy.